Document your classic car or motorcycle
The classic car documentation does not only help you to gain control over expenses, invested time, documents and events, it also increases the vehicles value!
With Easy Classics you can manage all your classic vehicles.
Vehicle Data
For each vehicle in your collection, you can add all the necessary and important data such as brand, exact model, serial numbers, colors and mileage information. You can link your vehicle to the Classics Paradise Repository and recieve valuable information matching to your classic. After linking we have a precise match to your car or motorcycle and can therefore inform you about any news related to exactly your vehicle.
Read more about our Repository
If you want to, then you can publish your vehicle on our member vehicle homepage.
Vehicle Media
With our media manager you can add as many pictures, videos and documents to your vehicle as you whish. The media manager is everywhere available where it makes sense to link media to your car or motorbike.
Adding or linking media can be done in different ways:
Selecting media by the file system
Automatic adding by scanning a predefined folder. This method can be used when your camera or scanner automatically transfers media to a directory on your computer. Our media scanner automatically detects new files and save them in the library.
Transfering media from a mobile device
Linking media by choosing it from the media library
With our media library you can easily manage and find your media. You can filter media directly by your vehicle or vehicle related entities like for instance it's history or by description. The media library also shows possible duplicates and helps you to resolve them.
Documents
Vehicle related documents, like purchase contracts, registration papers, insurance policies or special permissions, are an important part, when documenting a classic car or motorbike. With our document manager you can add any documents (PDF or image) to your vehicle. You can freely manage document categories to structure your papers.
History
In the history section you can manage important events, like classic car events, club events, rallies or any other happenings that are important and relevant for your car or motorbike.
Expenses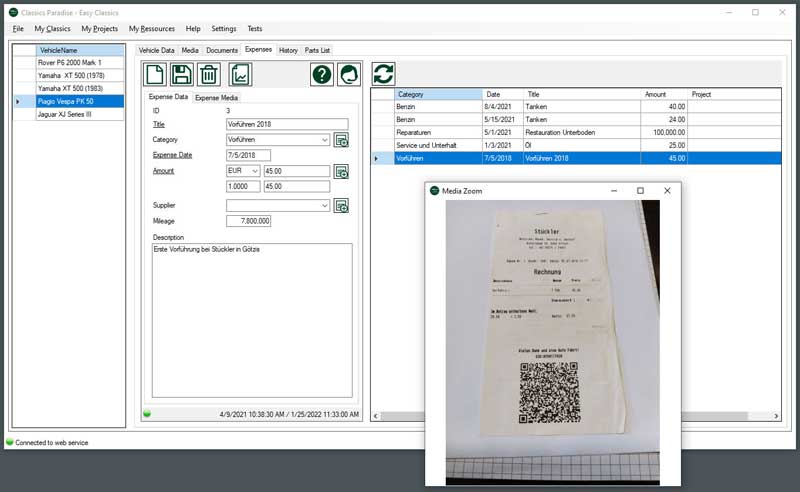 The expense manager helps you keep track of all expenses related to your vehicle. You can add as many categories as you whish, manage different currencies and link expenses to suppliers.
Expenses made in projects (see the projects module) are also visible in the expense manager. Either listed  accumulated as total project expense, or listed as each project expense separately.
Suppliers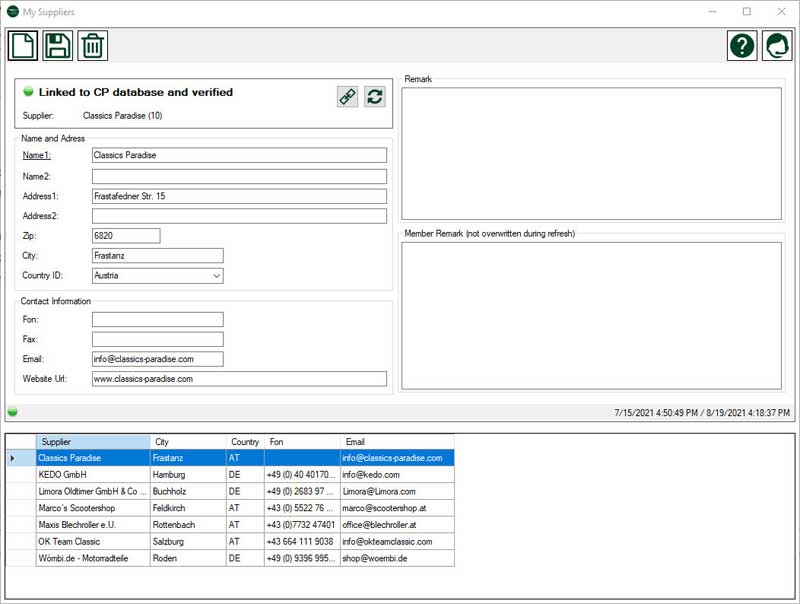 One of the most important ressources are suppliers. With Easy Classics you can manage all suppliers that are relevant for your classic car or motorbike. You can find and link suppliers in the Classics Paradise Repository based on your brand and model or you can add any supplier manually.
Parts List Manager
Having the parts list of your classic vehicle digitally available, makes a lot things easier! For a total strip down restoration it might be even vital. You can quickly lookup part numbers and search for them in the internet. Or you can base your repair or restoration work on your parts list (see Planning a Project).
The parts list manager ist designed to easily copy data from scanned pdfs into your digital parts list. You can quickly link parts to the position on the group image. Like this, finding parts is very easy.
You can find out more about why you should digitize a parts catalog and how easy it is in Easy Classics in our article <Enter a classic car parts catalog in Easy Classics>
Check out our projects module and how it can help you when restoring or repairing your classic.