Document your classic car or motorcycle
A well documented classic does not only help you to gain control over expenses, invested time, documents and events, it also increases it's value!
With Easy Classics you can manage all your classic vehicles.
Vehicle Data
For each vehicle in your collection, you can add all the necessary and important data such as brand, exact model, serial numbers, colors and mileage information. You can link your vehicle to the Classics Paradise Repository and recieve valuable information matching to your classic. After linking we have a precise match to your car or motorcycle and can therefore inform you about any news related to exactly your vehicle. Read more about our Repository and what the benefits are.
If you want to, then you can publish your vehicle on our member vehicle homepage.
Vehicle Media
With our media manager you can add as many pictures, videos and documents to your vehicle as you whish. The media manager is everywhere available where it makes sense to link media to your car or motorbike.
Adding or linking media can be done in different ways:
Selecting media by the file system
Automatic adding by scanning a predefined folder. This method can be used when your camera or scanner automatically transfers media to a directory on your computer. Our media scanner automatically detects new files and save them in the library.
Transfering media from a mobile device
Linking media by choosing it from the media library
With our media library you can easily manage and find your media. You can filter media directly by your vehicle or vehicle related entities like for instance it's history or by description. The media library also shows possible duplicates and helps you to resolve them.
Documents
Vehicle related documents, like purchase contracts, registration papers, insurance policies or special permissions, are an important part, when documenting a classic car or motorbike. With our document manager you can add any documents (PDF or image) to your vehicle. You can freely manage document categories to structure your papers.
History
In the history section you can manage important events, like classic car events, club events, rallies or any other happenings that are important and relevant for your car or motorbike.
Expenses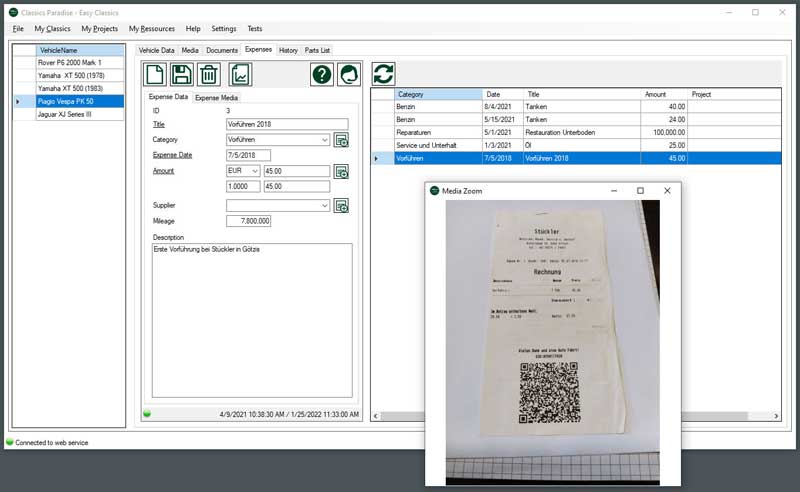 The expense manager helps you keep track of all expenses related to your vehicle. You can add as many categories as you whish, manage different currencies and link expenses to suppliers.
Expenses made in projects (see the projects module) are also visible in the expense manager. Either listed  accumulated as total project expense, or listed as each project expense separately.
Suppliers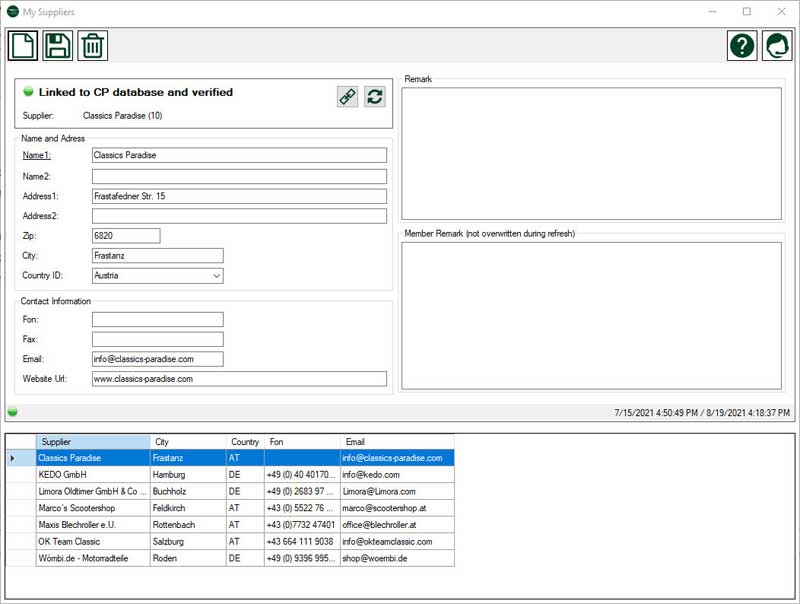 One of the most important ressources are suppliers. With Easy Classics you can manage all suppliers that are relevant for your classic car or motorbike. You can find and link suppliers in the Classics Paradise Repository based on your brand and model or you can add any supplier manually.
Club Memberships

Many of our members are also members of classic cars or motorcycle clubs. With out club membership manager you can add your clubs and your role within the clubs. You can find and link clubs in the Classics Paradise Repository based on your brand and model or you can add any club manually.
Check out our projects module and how it can help you when restoring or repairing your classic.
Manage simple repairs to complex restorations
Many of our members service, repair or restore their own cars or motorbikes. Easy Classics projects module helps you to manage and document your work. Well documented repairs or restoration projects are vital for the value of your classics.
With our work documentation module, you don't only make life easy for yourself but you also can contribute to the Classics Paradise Repository and publish repair manuals for other members and benefit from our bonus system!
Project Main Data
When adding a project, you can link your project to one of your vehicles and define which time format (decimal or hours and minutes) you want to use when entering working times. You can define how expenses should be handeld, either accumulating all expenses to one expense record in the vehicle expenses or display each single expense seperately. Furthermore you can enter the esimated beginning and ending date for your project.
Planning a Project
Complex restoration or repair projects quickly involve many hundreds of parts.
To keep track of your progress, you can define target values for your project beginning date and ending date, expenses and expenditure of time.
Parts List Manager
Having the parts list of your classic vehicle digitally available, makes a lot things easier! For a total strip down restoration it might be even vital. Your can quickly lookup part numbers and search for them in the internet. Or you can base your repair or restoration work on your parts list (see Planning a Project).
The parts list manager ist designed to easily copy data from scanned pdfs into your digital parts list. You can quickly link parts to the position on the group image. Like this, finding parts is very easy.
Storage Locations
For each project you can defines all your storage locations. There are three storage types available: 1. Building/Room/Area, 2. Shelf/Rack and 3. Bin/Container/Box. You can freely define how your storage locatcions are configured. All storage locations are displayed logically in a tree view. To identify a storage location, you can print labels with IDs, names and content.
During your project you can assign parts to your predefined storage locations. Like this you always have a good overview where which parts are stored. To find a part, you can search by it's name or part number.
Features Comparison Table
| | Basics | Projects |
| --- | --- | --- |
| Supported languages | English & German | English & German |
| Number of vehicles allowed | Unlimited | Unlimited |
| Vehicle types | Cars & Motorcycles | Cars & Motorcycles |
| Basic vehicle data | | |
| Link media to vehicle (photos, videos etc.) | | |
| Media types supported | JPG, PNG, SVG, GIF, MOV, MP3, MP4, PDF, WAV | JPG, PNG, SVG, GIF, MOV, MP3, MP4, PDF, WAV |
| Manage media in media library | | |
| Manage documents (purchase contracts, registration papers etc.) | | |
| Manage expenses | | |
| Add expense categories | | |
| Manage expenses in multiple currencies | | |
| Reporting | | |
| Manage vehicle history (special events, ralleys, club events etc.) | | |
| Manage vehicle suppliers | | |
| Access suppliers from the CP Repository | | |
| Manage memberships in clubs or other organisations | | |
| Access & link clubs from the CP repository | | |
| Manage parts lists with grouping, blow ups, parts | | |
| Easily create parts lists scanned documents | | |
| Number of projects allowed | | Unlimited |
| Plan projects by manual grouping | | |
| Plan projects by parts list grouping | | |
| Add estimated expenses & time to each group | | |
| Manage storage locations (sheds, shelves, bins etc.) | | |
| Manage categories for activities, expenses and time tracking | | |
| Add parts to groups | | |
| Add parts to storage location | | |
| Add dismantling process to parts | | |
| Document parts dismantling processes step by step | | |
| Add any media to dismantling steps | | |
| Automatically convert a dismantling process to reassembly description | | |
| Add tools needed for each dismantling/reassembly process | | |
| Add activites to project groups with % completed | | |
| Track expenses & time for groups & activities | | |
| Control expenses & time for each group | | |
| Automatically synchronise project expenses with vehicle expense history | | |
| Display project status on dashboard (expenses, time, total effort) | | |
| Price per year | €29.90 | €89.90 |
| | Buy Now | Buy Now |
Easy Classics for owners
Basics
Full Vehicle Administration
Expenses
Documents
History
1 Year License
24h Support
Full Basics Functionality
Plus Full Project Administration
Document Complex Restorations
Admin Parts Lists
Plan Projects
Expense & Time Tracking
1 Year License
24h Support